Mortgage Blog
Mortgage It Right!
Merry Xmas...Higher Mortgage Interest Rates Expected!
October 31, 2016 | Posted by: Kelleway Mortgage Architects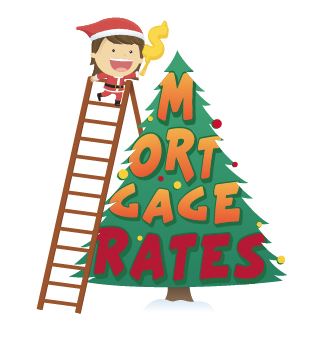 Thinking of refinancing? You may want to consider doing that sooner than later.

After November 30, 2016, expect mortgage interest rates to likely increase by at least a quarter to one-half percent (i.e., 0.25% to 0.50%). Generally, the same experts are also forecasting more gradual increases into late 2017 and 2018. As well, qualifying for any refinancing may mean that after November 30 you may qualify for a lesser amount of mortgage than you did before.
Why is this Happening?

The Canadian Department of Finance has imposed new restrictions on borrowers making it more difficult to qualify for loans. If you want to refinance your mortgage, you will find that many lenders are stepping back from offering their full array of mortgage products – especially those that involve rental properties, mortgages exceeding $1M, business-for-self income, and mortgages with more than a 25 year amortization period. In a nutshell, mortgage options available to you before may not be available after November 30. However - remember we are mortgage brokers - we can still source many lenders who will loan on that criteria to make it work for you.

This can be seen as somewhat good news and bad news, depending upon your perspective and financial situation.

The "somewhat good news" is that the government is paying attention to the overall health of the mortgage industry in Canada. The government's intent is to push some of the risk for borrowers defaulting on insured mortgages back onto the lenders who approved the borrower's mortgage application in the first place.

Right now, in the case of a default, CMHC covers not only a financial institution's losses on a default, but also things like lost interest, and even the costs of foreclosing on a property, including legal fees and property maintenance.

It's hardly a recipe for a financial institution to be careful or thoughtful about who it is lending money to, is it?

The new changes are almost guaranteed to cause a bit of a storm. There are two options being considered. One would see a deductible put in place of anywhere from five to 10 per cent — meaning the financial institution would actually have some risk, and would have to pay out part of the cost of a failed mortgage. The other option would see a fee being charged to the bank for the benefit of having the insurance.
(quoted from Gulf News )


The "somewhat bad news" is that you can expect mortgage rates to increase as lenders pass on their higher costs of doing business to borrowers.

Also, not so good, is that the government is imposing new lending rules on some lenders and not on others based upon new capital requirements for default insured loans. This could result in an imbalance of competition in the lending industry. Judging by recent stock prices, monoline (non-deposit taking) lenders who rely more heavily on mortgages that were default insured by CMHC, Genworth or Canada Guaranty, are being hit harder than their big bank (deposit taking) competitors. In effect, by putting some lenders at a disadvantage, the mortgage industry as a whole will likely constrict the choice of available mortgage products and raise interest rates.

So...if you are thinking of refinancing for any of the following reasons within the next couple of years:
• Debt consolidation
• Home renovations
• Investment (financial portfolios that may include RRSP's, RESPs, stocks and bonds, etc.)
• Rental property investment
• Buffer financing (bridge financing between purchases, etc.)
• Renewing your mortgage early and adding a line of credit or increasing an LOC (NOTE: Keep in mind that if you do not use your line of credit (LOC), you do not pay interest on this personal "saving-for-a-rainy-day" fund.)

My advice is to call me now and ask if the numbers work in your favour to refinance your mortgage sooner than later.

More info on our Blog.

More mortgage industry news.
What's the Next Step for You?
1) Keep us in mind and on hand in case anyone you know runs into the same sort of situaltion.
2) Share this post with your friends and family because you never know when the info could come in handy.
3) Call or Email Us just to connect and get started talking about your plans. (see below)
4) Sign Up for Glen's Perspective newsletter > Click here
Glen Kelleway, BSc, AMP, Senior Mortgage Planner & Owner

If you would like us to contact you by phone or email, please click Contact Us Kelleway Mortgage Architects will get back to you within one business day.

Phone: 604-476-0053
604-476-0053
Toll Free within North America: 1-866-476-0053
1-866-476-0053 FREE

Email: glen@mtgitright.com
(The first time you use this email address, please call first to validate yours. Otherwise, our SPAM filters will block your email and we will not see it.)

Join us on Facebook: > Click here
Send us a comment or question, we'd be happy to hear from you! Or call 604 476 0053 or 1 866 476 0053